Hi friends and family, can you believe it is already Friday!?!
Wow…it seems like the weeks are flying by over here! If you follow me on instagramthen you saw me post a pic of Bryce and Maddie starting summer-school yesterday. I know, come on right-let them enjoy their summer but, their elementary's summer school is full of fun and a little learning, plus it is only till mid June then they have right under two months off. Yesterday they went swimming at the Y.M.C.A and loved it…and of course Maddie was starving, like always :), when I picked her up. I need to start bringing an after school pickup snack again!
Let's get into my Friday Favorite's!
Before I tell you what it is, let me state this, I LOVE doing yardwork and gardening!!!
I love planting flowers, mowing the lawn, using the weed-eater, you name it. I get it from both sides of my family my Grandma Karen (Dad's Mom), Grandma Angie (Mom's Mom) and my Mom all love gardening and yard work!
Now that we live in the Midwest, for almost a year now, you'll come to find out that your lawn mover and weed eater become REALLY good friends because everything just GROWS here!!!
So with that being said…my new favorite things for yard work is this cordless Black & Decker Trimmer and Edger.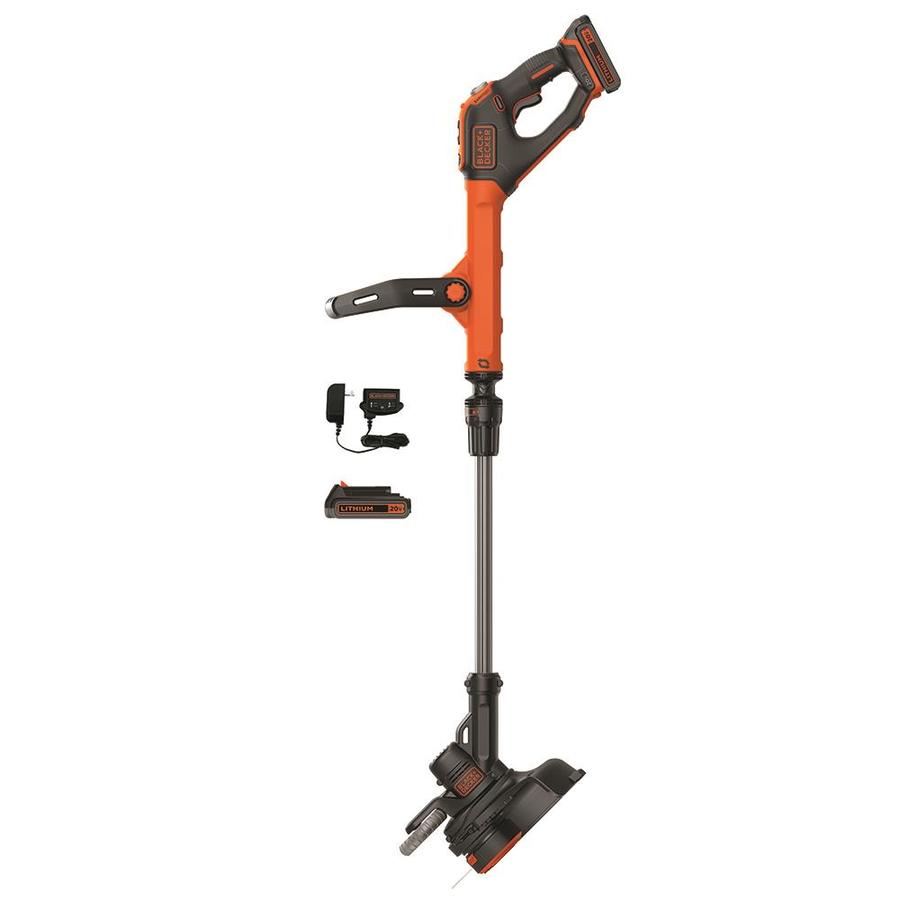 It's super easy to use, self feeding, pretty much adjustable ALL over and it's battery operated.
NO MORE waiting for someone to help me start the gas powered weed eater because come on, those things never start and no more mixing gasoline and oil to fuel the weed eater.
The Black & Decker Trimmer and Edger comes with two batteries, so when one runs out you can pop the other charged one in. The batteries actually last pretty long if you have it set on number 1 speed and a descent amount of time for number 2 speed as well!
Here's me in action earlier in the week.
Around here there is always something to weed-eat!!!
Yesterday I was working on this LONG fence line that stretches all the way to the road.
A lot of this slope you can't get with the riding mower because it is too steep and can't get around the posts. It looks so much better now, all I need to do here is mow and it will look amazing!
The mower that we use is a Husqvarna and if you notice in the background, this picture was taken before all the leaves came back!
Another thing I love about this weed eater is that it is light and doesn't vibrate your arms like a gas powered one.
Today if it doesn't rain, I will try and work my way down this fence line and around this pretty flowing tree-bush-thing, lol!
Another Friday Favorite I want to talk about is this women's gardening/yardwork glove! I like to refer to this glove as a hybrid of a gardening glove and a leather work glove.
You get the best of both worlds with this glove!
This glove is very versatile, from planting flowers to yard working.
My Friday Favorite this week may of come as a surprise to you but seriously, Black & Decker knows what's up when it comes to their weed eaters!!!
*Both products were purchased at Lowe's, click on the links to take you there.
Have a great weekend and talk to ya soon, we are supposed to have great weather, yay!
Bye friends,