Hi friends, long time no talk! 🙂

This is my first official blog post since taking our family summer vacation to St. Louis and I have a ton of pictures to share!!! This was also our first trip as a family of five!

We chose St. Louis because we wanted to see more of what Missouri had to offer than just our little small town. We happened to be gone on Maddie's birthday too so that definitely meant that we wanted to do something she would enjoy and that would be the Zoo! There is nothing Maddie loves more than animals…

I was going to break this up into two different post, today & tomorrow but I decided to just make it one big one, so lets get started because I have a ton of pictures to share
Here is our room!
We stayed at the Hampton Inn near the Zoo and absolutely loved it.
We got a Jr. Suite because we needed to sleep 5, before we got away with 2 queens but now…it calls for a bigger room.
The girls and Bryce absolutely loved the room and it was big enough that everyone wasn't right on top of each other!!!
One thing about the Hampton Inn that we love is the free continental breakfast they put on for all their guests.
Here is day one, all ready to head out to the Zoo!
St. Louis Zoo here we come!
This was a huge elephant that greeted us in the parking lot, haha.
Maddie at the Zoo…that is her happy place!
Maddie just LOVED watching the hippos swim back and forth right in front of her!!!
———————————————————————————————————
Let me just tell you…it was over 90 degrees with about 100% humidity…it was impossible for you not to be in a full sweat, all of us! lol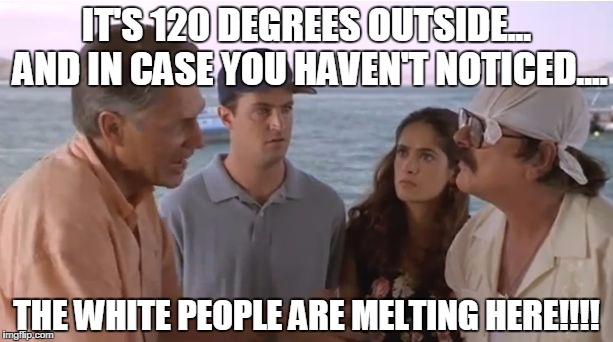 In case you don't know, Fools Rush In is one of my favorite movies and Jer and I kept saying the white people are melting!!!
At this point we found refuge in some delicious ice cream that we happened upon at the perfect time!
I got mint chocolate chip in a homemade waffle cone and it was good!
#sorrynotsorry
Right after that, we visited the sting ray exhibit since having our arms in cool water and in the shade would help us cool off.
We all loved petting the sting rays, the girls kept saying how slimy they were!
Hi there, I am on this trip too, not just the photographer, lol!
After the carousel we watched a 4-D Sponge Bob short movie, went to the monkey exhibit and when we came out a huge thunderstorm rolled in! So we finished visiting the giraffes, tiger, zebras etc and went to ride the train one more time before leaving!
Jer snapped this pic of me and Maddie on the train, she was tired-overheated and done.
So back to the hotel for swimming and hot cocoa & cookies!
Day two!
We sat in the overflow breakfast room everyday because number one there wasn't a table big enough for us available and it was so much quieter.
After everyone filled up on breakfast it was off to Grant's Farm
We had such a good time here and I recommend everyone coming to visit the Zoo & Grant's Farm!
Tram tour around the farm!
This was once Ulysses S. Grant's property, which the Busch Family acquired back in the 20's. Now Grant's Farm and on the other side is home to the Budweiser Clydesdales!
This home was obviously restored but it was built during the Civil War!
This long horned cow was walking next to the tram, right by me.
Once we got off the tram, we bought the kid's passes so they could feed the goats, get a free snow cones and ride the carousel! I think each pass was under $10 but the park was free admission!
Naomi was a little nervous because the goats were a little aggressive with wanting their milk, haha!
There was little quarter machines that dispensed out feed so you could hand feed some of the larger animals.
Maddie demanded that I take a pic of the hampers! 🙂
Jer got his sample of Budweiser beer and he was a Happy man!
Then we walked back through the parking lot to where they keep the Clydesdale horses.
This was one of the biggest one we saw, I think his name was Jake and he was absolutely beautiful!!!
They take such good care of their horses there…
Now downtown to see the Arch!
This heat was not going to stop us from having fun and exploring!!!
This was taken inside the old courthouse in St. Louis…so pretty!!!
The builders of the Arch!
It was amazing at how massive it was and how they constructed the Arch!
This was our last main stop in the tour of St. Louis, it was back to the hotel for swimming and
to cool off!
We all just wanted to relax and take advantage of the hot chocolate, coffee and cookies before heading home that next morning.
As a family of five, I think our first family vacation was a success!!!
Talk to you ALL soon,