Hey Friends!
Today I wanted to share a post about my favorite backyard toys. This post has been rummaging in my mind for a while and now I'm finally getting around to sharing it with you! Here's how you can create the ultimate backyard oasis for your kids to have fun all summer!
Now I understand you aren't going to go out and buy everything I recommend but, I will say that most of the items have lasted us for years and survived the move from California to Missouri!
When I picture a backyard Oasis for kids, I picture a backyard with options, because we all know kids get bored real quick! Somewhere they can play with sand, somewhere to sit and enjoy a popsicle, splash in the water or simply swing.
My kids play for hours in our backyard and sometimes all it is is rearranging you set up you already have or heading down to your local dollar store to add some inexpensive summer toys!
Let's take a look at our setup!
Our latest addition to our backyard is this All Around Playtime Patio with Canopy.
This Playtime Patio really does have it all! It has a little area for sand & water play, pretend play barbecue, a side table and probably my favorite part is the canopy.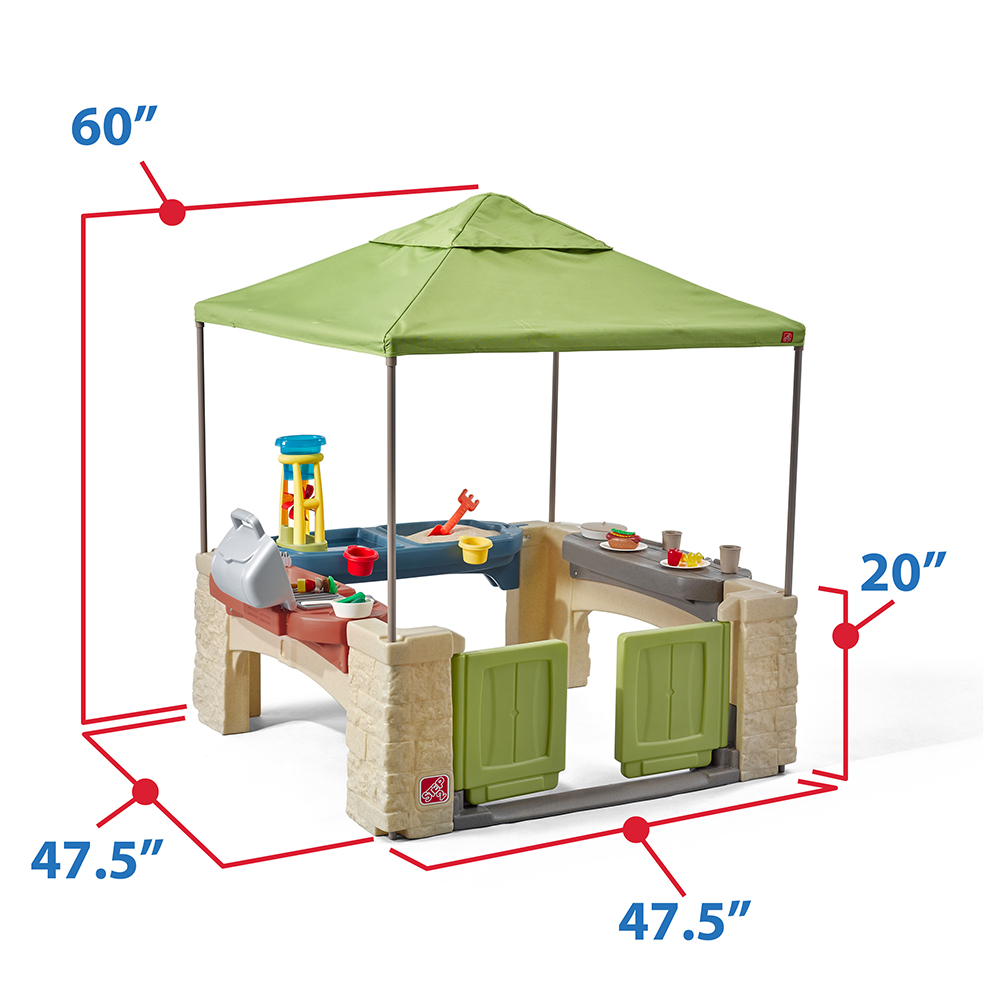 This really is a one stop shop sort of toy, especially if you don't have a ton of room in your backyard.
Now here is a toy that we've literally had for years! I think Jer and I bought this Naturally Playful, Sand & Water Table for Bryce when he turned 3 and now this year he will be turning 11.
I would call this tried & true!!!
They don't make the same exact model anymore because of how old it is but, they do have an updated version that looks pretty cool!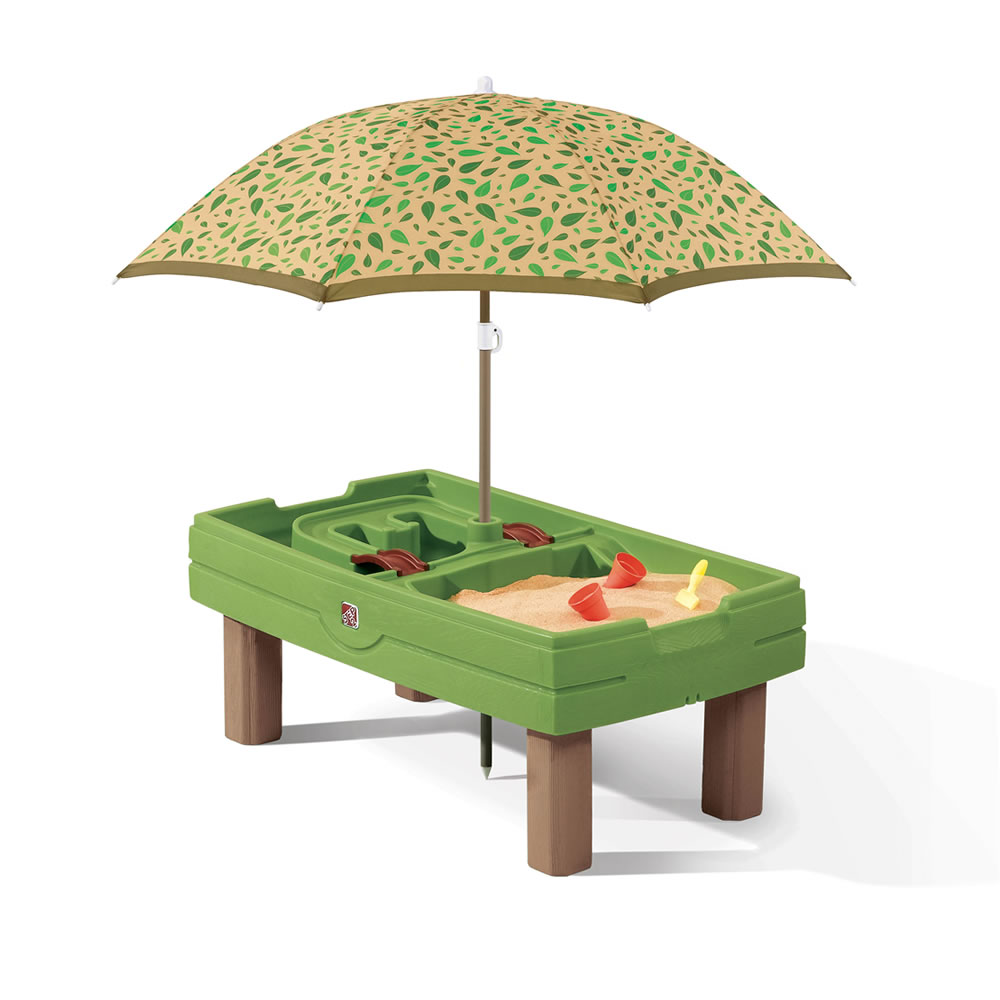 In the summer time the kids like to turn this whole thing into a water table as well, especially if we've run out of sand!
We also have two tables for the kids to eat lunch at, enjoy a popsicle, do crafts or play playdoh. We've had both for years so again they don't make the exact ones anymore but, they do have an updated versions! The table and chair version is linked here.
I will say this table is on the smaller side and would work perfect for preschool age kids.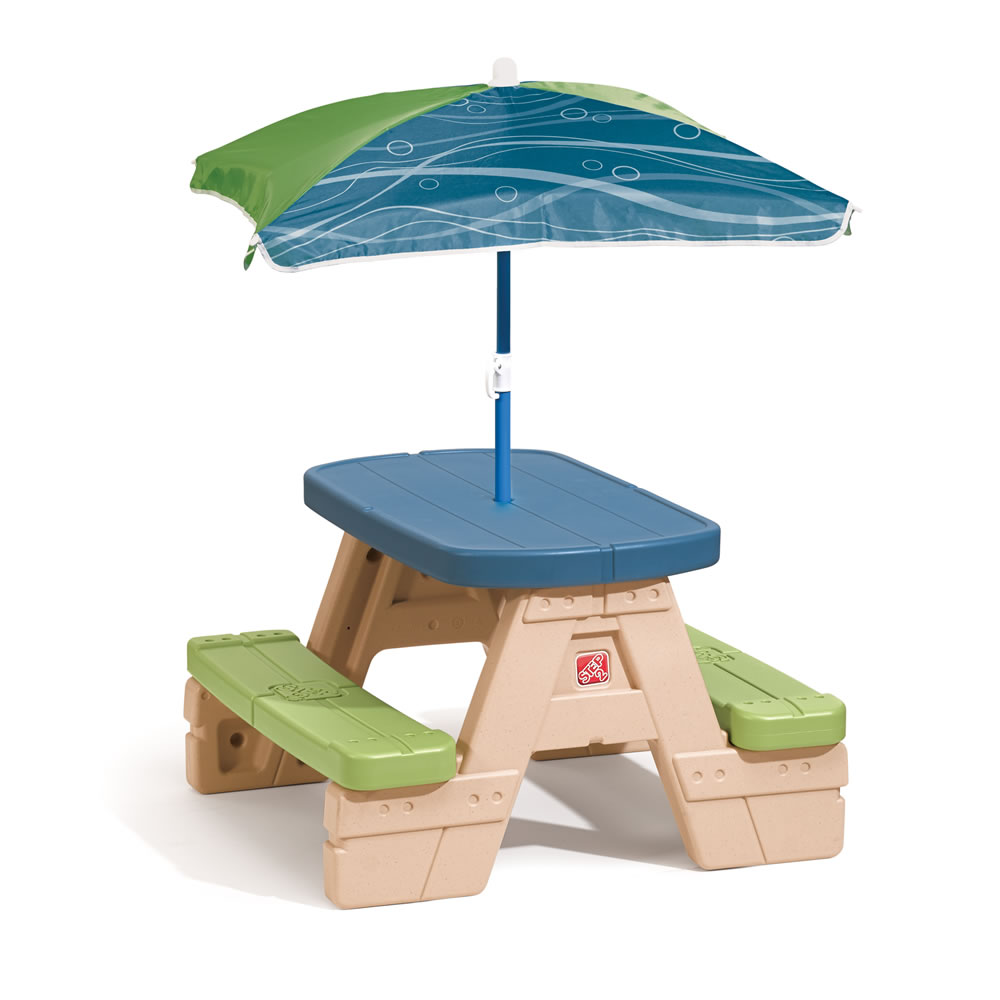 If you want a table that is a little bigger here's another option, the Naturally Playful Picnic Table!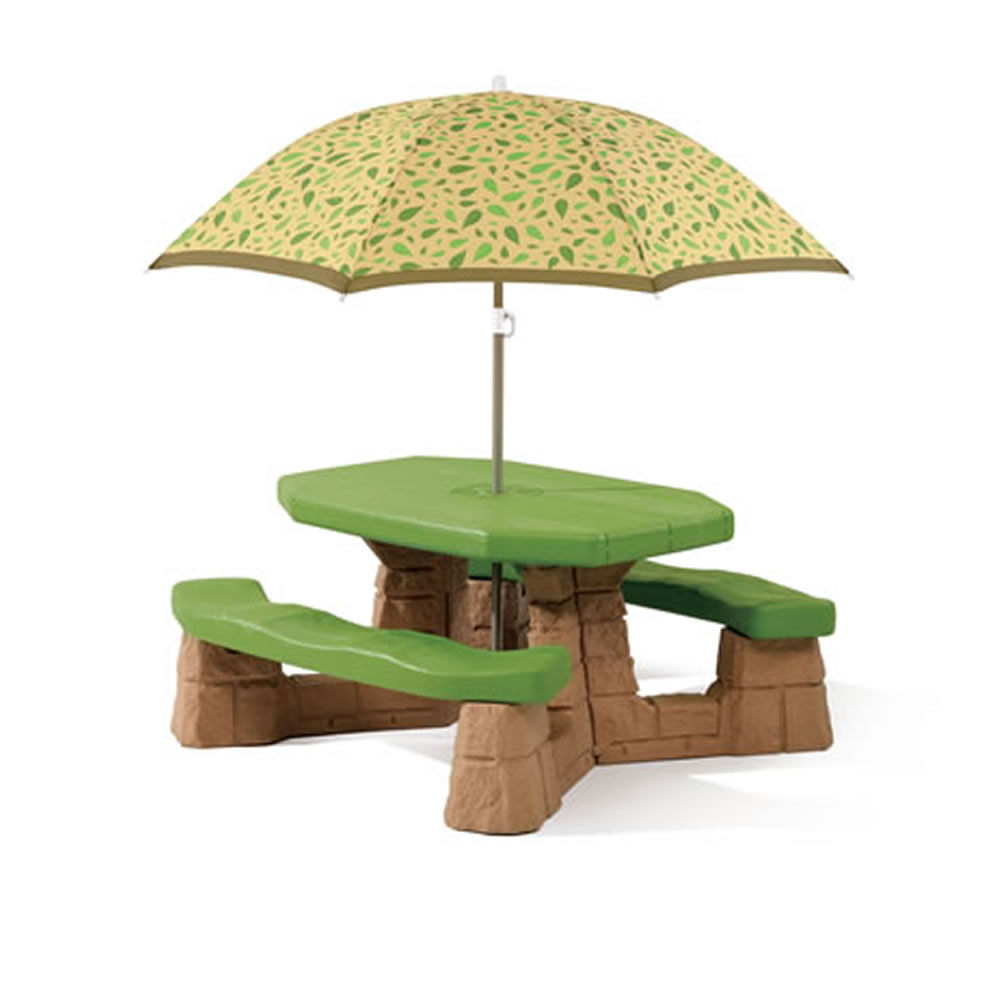 Now for water play!!!
Who doesn't LOVE a slip n' slide?!?
Slip n' Slides are perfect on hot days and good for all ages. You can purchase slip n' slip at your local Walmart or Target. They have really cool elaborate ones these days and I never store a slip in slide over winter. At the end of summer our slip n' slide is said goodbye to and then next year we'll purchase another.
Now the next two items are a little more on the pricey side but, they are so worth it!!!
Inflatable water-slide!!!
We've had ours for almost 4 years and we absolutely love-love-love it. This Little Tikes Slam & Curve Water Slide has paid for itself over & over again!!!
The most important thing about keeping this slide for years on end is putting the water slide away properly!
Emptying the water out and keeping the slide blown up (empty) to let the sun dry out all the water, then folding it all back up and storing it for the next time. I've never left it out overnight!
Seriously recommend an inflatable water-slide for your backyard!!!

An Intex pool!!!

For a little over $100 you have yourself an above ground pool, we put up every summer and then take down in the fall. This seriously is the perfect pool for young kids because it isn't deep and very easy to maintain!

Now if you don't want a slide or pool, could I interest you in a swing, ha!

My kids love to swing and

this rope swing

brings them so much joy.
The girls love to swing together…
Bryce loves to relax and be pushed on the swing…I mean this is simple enjoyment right here.
Then you have your very simple wooden swing, it doesn't get more basic than that!
Now I know I've shown you A LOT of different things but, we live out in the country where we are at home a lot and the kids need to keep themselves entertained while I work on the dairy etc.
I also know that some people don't have the luxury of having a big backyard, so that is why I included so many different types of items in hopes you could find at least one that would fit into your lifestyle.
Quality backyard toys do last and hold up to the elements vs. cheaper plastic toys and that is why most of the stuff you see is built by Step 2.
Love-Love-Love Step 2!!!
I can't complain about Little Tikes either because their inflatable slide has lasted for years, they definitely cornered the market on that.
I hope you enjoyed and found all my recommendations helpful in building your own backyard oasis for your kids to have countless hours of play.
Talk to you all soon,

*Not a sponsored post, all thoughts are my own.