Raise your hand if you remember school being out in June and you didn't want to think about school til September!?!! Well, nowadays our kids are required to learn so much during the school year and to help them retain that knowledge is important. The summer-slide is real!
Now that I'm a parent of three kids, it's so important that I keep my kids' minds engaged and still active with learning and especially reading!
I know the saying let kids be kids and enjoy their summer and I agree 100%, although this is maybe 30-40 minutes out of their day and if we are just doing reading then 20-30 minutes.
Doing a little schoolwork over summer will help so much and it doesn't have to be stressful, let me show you what we're doing!
* This post may contain affiliate links, to read our fine print, click here, but it's really boring!
Printable, Summer Review Workbooks
My absolute favorite summer review workbook for kids (preschool-3rd grade), is from The Moffatt Girls.
You purchase the downloadable file and print at home, it's very easy and affordable!
All you need is glue, scissors, crayons, and a pencil.
I've been using these workbooks for years, ever since my oldest (now in middle school) was in kindergarten.
Now my youngest loves doing their no prep, printable workbooks!
Our favorite learning supplies
Online learning is a great form of learning too!
Our favorite online learning software is by ABCMouse.com, This is perfect for toddlers – 2nd grade. Click here to get your first 30 days FREE and try it out!
You can do this on a computer or tablet and they have apps for early learners!
Adventure Academy is NEW and it's geared towards kids 8-13 years old. It looks so fun, Bryce is going to try it this summer! If you want to try it also, click here – for your first 30 days free!
This does cost a minimal monthly fee after your first 30 days but, it's very affordable and we love it. We've been apart of the ABCMouse family for at least 5 years!
My oldest daughter has autism and benefits by learning visually, I can get her to do more learning this way all year long.
OR You can get 2 months of ABCMouse for ONLY $5! That's a deal…
If you want a free option for apps or online resources then here are some recommendations from smartappsforkids.com.
SmartAppsforKids.com
Read for 20 minutes a day to increase literacy.
Reading is so important!!!
If nothing else, have your child read for at least 20 minutes a day, 4-5 days a week. Your local library is a great resource for keeping your child interested in books all summer long and it's FREE!
Most libraries do a summer reading challenge for kids, so go down and check your local library's out.
If your child can't read independently yet, they can practice reading to you or you read aloud to them.
ReadingIQ is a great online digital library to be a part of – First 30 days FREE – click here!
This is also a great opportunity to practice sight words!
Summer Slide Statistics
Here is a great Summer Slide Statistic graphic that Annie created, I promise this blog post isn't sponsored by her at all, this is just how much I love her work and am a loyal follower since my oldest was in kindergarten!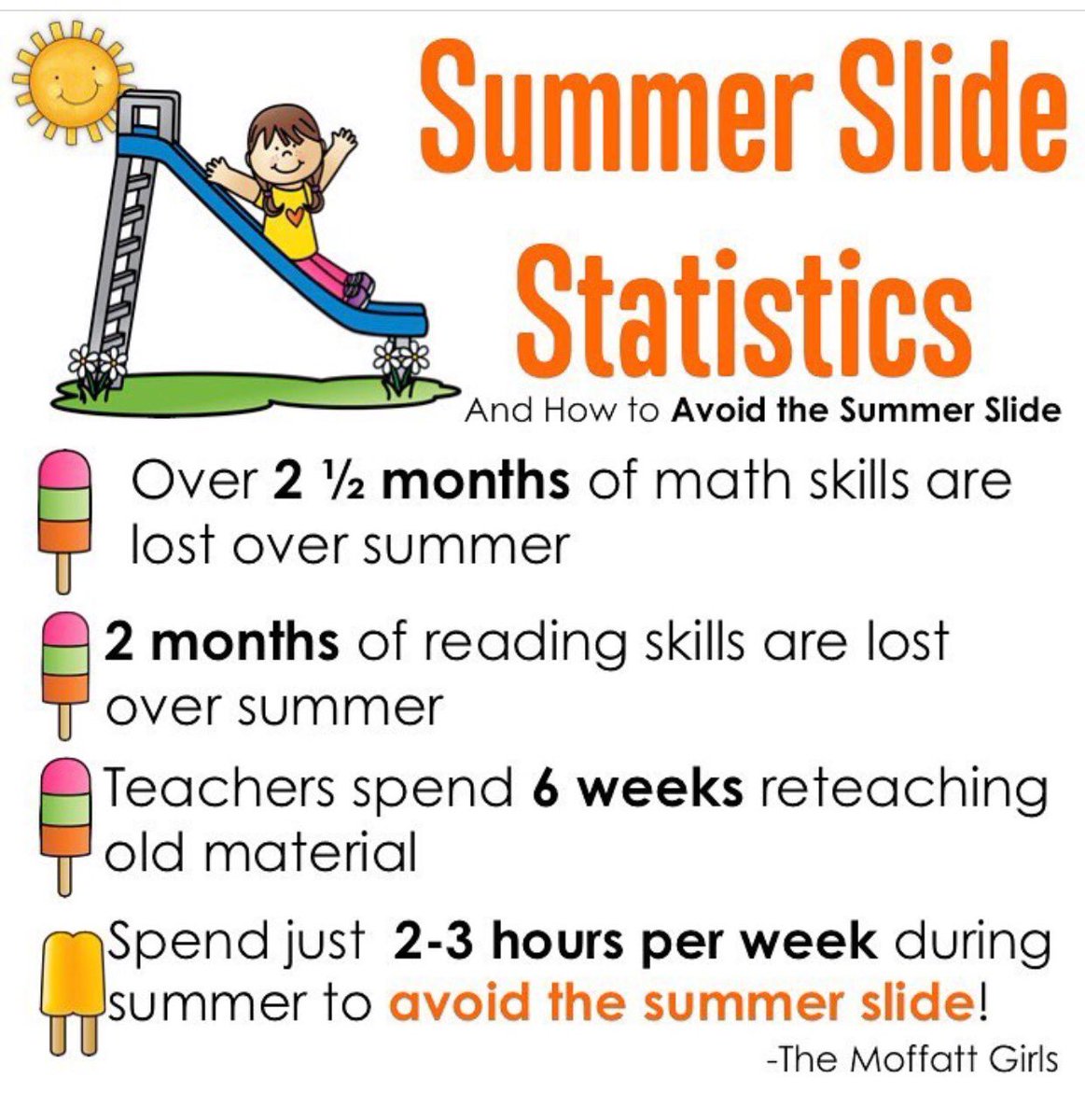 Limit screen time and encourage brain breaks.
Screens are everywhere these days and it's really important to limit screen time and set boundaries.
I like to have my kids do their chores first or get our summer learning done before video games or YouTube…
Also, I encourage brain breaks and quiet time play, like Legos, puzzles, arts & crafts or games. And I'm always encouraging outdoor time, like going for a walk, riding bikes, visit your local park or go swimming. Don't forget your sunscreen!
Here's a fun printable I found online!
Summer Rules Printable//ThirtyHandmadeDays.Com
You May Like to Read These
HOW I STORE CRAFT/SCHOOL SUPPLIES
SUMMER SCHOOL REVIEW 2016
Have a Great Summer and Happy Learning!