Steps to Winterizing your Home. If there is one thing I've learned since moving from Southern California to Missouri is that you actually have to prepare for the seasons, especially winter!!! Winter is not the time you want to get caught unprepared, that is no joke!
This will be my fourth winter in Missouri so I feel like I've learned a few things over the years. Now I'm not a home expert by any means but, with these steps & tips to winterizing your home, you will be ready in no time and save yourself money in the long run.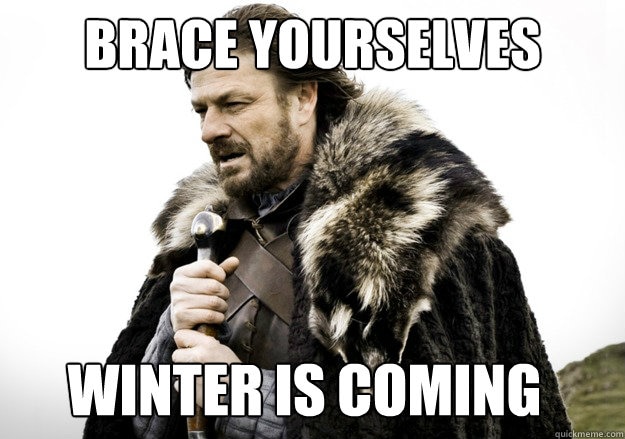 *These tips are in no particular order.
---
Heating.
During the process of winterizing your home, I would say heating is right up there on the top of the list. How are you heating your home? If you have a wood stove then you want to make sure you've cleaned the flute, check all your pipes and have enough wood to at least last you a week or two. I know when we lived on the farm, it always brought comfort to me when we had a big stack of wood in our wood room.
If you have central heating then you want to turn your heater on (before you need it!), burn off the dust and make sure your heater is working properly. Also change out your HVAC system's air filters. When was the last time you did that? We change out our air filters quite frequently, we have one in the house and two in the unit.
According to serviceexperts.com your general rule of thumb is:
vacation home or single occupant and no pets, 6-12 months.
Average suburban home with no pets, 90 days.
Add a dog or cat, 60 days.
Add more than one pet or someone who has allergies, every 20-45 days.
We generally do ours every 60 days, even though we don't have any pets in the house, unless 3 kids count as pets…
---
Fireplace.
Maintaining your fireplace is an important step in winterizing your home, especially if you use it as a form of heat! Our fireplace is a vented gas fireplace, what that means is the flute about the logs is always open and there are glass doors on the outside to conserve the heat from getting pulled up the flute when your fireplace is not in use. This type of fireplace is more decorative and is not made to be your main heat source. But when our doors are open on our fireplace, it warms our living room perfectly and makes it feel cozy inside.
Here are the steps I took to prepare our fireplace and the items I needed:
Gloves, (disposable, leather, kitchen sink gloves…) your hands are going to get soot on them.
Vacuum, (shop vac or house vac).
2 trash bags, (1 big kitchen or outdoor trashcan bag and 1 small or whatever you have).
Flat container or tray.
General use scouring pad.
Window cleaner and paper towels.
Start by opening the glass doors all the way and sliding the screens as far to the sides as you can.
Take a picture of how the logs were placed so you remember how to put the gas logs back. (Tip given to me by my HVAC Tech. Dad!)
Unfold your trash bag and place it flat right next to you, (this is to protect the surface, carpet, etc.)
Take the logs out one-by-one and place each on top of the trash bag.
Now use your vacuum and vacuum all the dust and soot off the logs.
Also vacuum the edges, screens and doors of the fireplace to get all the dust off.
Take the grate out and vacuum that as well.
If you have rock wool, take all the pieces out and place them in a tray or container. Sift thru the rock wool and discard any tiny pieces, rocks and or replace with new

rock wool

if needed. Once sifted thru, place all the rock wool back where it was and make sure not to covering the pilot or output.
Move or rearrange the black lava rock if needed.
With your souring pad, gently scratch at the pilot light rectifier to get rid off the white stuff. (

Here's a video I found to help explain.

)
At this point, clean the inside of the glass door on both sides and then close the doors and clean the outside.
Arrange all logs back to where they belong, refer to the picture you took on your phone if needed and now you're ready to light your pilot!
I suggest you refer to your user's manual if you don't already know how to light the pilot on your fireplace or contact a professional.
Here's our fireplace all ready to go!
---
Windows & Doors.
Another key step in winterizing your home is to check all your windows and door, inside and outside. With your windows you want to make sure they are closing, locking and sealing properly, if not you may need some weathering stripping to keep heat from escaping or cold weather coming in. You can find weather stripping at your local hardware store. Also check the caulking around your windows too!
A big area that heat escapes from is your doors! You may need some weather stripping if you can see light coming thru the sides of your door or a draft stopper (like this) to place at the bottom of your door to keep the cold air from coming in.
---
Outside & Around the Yard.
At this time of the year you want to clean out all your rain gutters of leaves & debris and check your drain spouts for any blockages. In the past I've had sticks that have floated down the gutters but once they get to the bottom they can't get out!
Store any summer toys that don't need to be out. I like getting big plastic bins and storing away any toys that won't be used in the cold/winter months and put them up in the garage or storage shed til Spring.Summer.
Remove any outdoor hoses and drain the water from the inside. Coil and store in a dry place. This prevents them from freezing and cracking.
I found these foam faucet covers from Lowe's for less than $2. They are meant to fit flush against the house and prevent your faucets from freezing.
Aren't these cool!? Of course I took the sticker off but, I left them on to show you what it looked like.
---
Storing your yard/lawn equipment.
Winterizing your home doesn't just stop at the house. You need to winterize your lawn/yard equipment by adding fuel stabilizer.
Our favorite is STA-BIL Storage and according to GoldenEagle.com the benefits are as follows:
STA-BIL Storage Fuel Stabilizer keeps fuel fresh for quick easy starts after storage. It removes water to prevent corrosion and cleanses carburetors and fuel injectors. This product also protects the engine from gum, varnish, rust, and corrosion and prolongs the life of any engine. Eliminate the need to drain the fuel of your 2 or 4 cycle engine by treating the fuel with STA-BIL before storing.
We have learned the hard way come Springtime when you don't add a fuel stabilizer to your mower, spend a few bucks now and do your winter maintenance so it doesn't cost you later!
---
Those are my tips & steps for Winterizing your Home, I hope this tutorial was helpful, saves you money on your energy bill and prevents winter from wrecking havoc.
Stay warm & Talk to ya Soon
-Jade
p.s. Don't forget to get all your cold weather clothes around too! (beanies, gloves, socks, hats, boots, jackets, etc.)