Organize Your Bills – Finance Binder Hi friends, Today I wanted to share how I stay organized when it comes to our finances.
My favorite way to keep our finances organized is by using a Finance Binder, this is the system I've used since 2013! A finance binder is where you keep your bills, budget paperwork, bill checklist, password log etc., safe & all in one place.
I know that there are a lot of different online systems or apps that can help keep your finances & budgets organized and those are great, we use Mint to keep track of our budget, but I still think you need pen & paper. It's important that you write out a budget, write down all your bills and start there. The key is to spend less than what you make.
It doesn't matter if you have a little or a lot, this is one area of your life where you need to make it a priority to stay organized or it can cost you!
Finance Binder
Bill Folder
The bill folder is where I put all our bills that come in the mail. Although most of our bills are paperless, we still get a few that are mailed to us.
It's a simple, plastic-3 hole punched folder that I purchased at Staples many years ago.
Sometimes this folder is used to hold stamps, return address labels and misc paperwork that pertains to our finances and needs my attention.
Monthly Bill Checklist.
The monthly bill checklist is probably one of my favorite parts of our financial binder! This is where you write out all your bills, the date they are due, fill in the amount you paid that particular month and give it a check when you paid it or when it was drafted out of your account. Don't forget to put any of your bills that are on auto-draft too!
I really like seeing all the bills, auto-drafts, subscriptions at a glance, also you're able to tally your bills at the end of every month and see when one month ran higher than the other.
I created a FREE downloadable – Monthly Bill Checklist just for you!
[email-download download_id="1393" contact_form_id="1391"]
Link will appear after you enter your email⬆
This system works so well, I've used it for years and I wanted you all to have exactly what I love for free!
Budget Worksheets.
The next main part of our binder is the budget worksheets. I like using a 3 column ledger pad from Staples and the best part is it's 3 hole-punched, so it fits perfectly in the binder.
A budget is telling your money where to go instead of wondering where it went. – Dave Ramsey 💰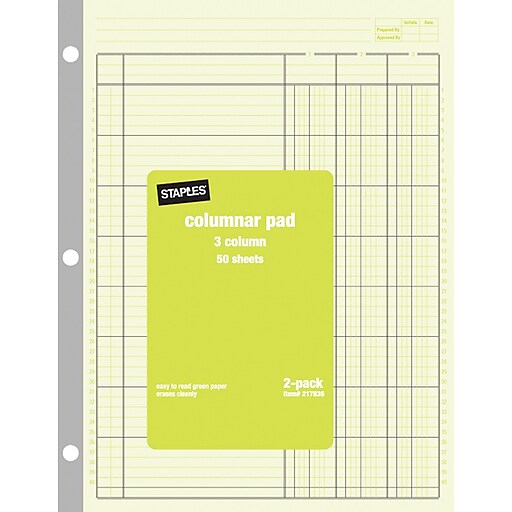 You can use this notepad to help keep track of other things too like, your income or track your grocery bills etc.
Non of the columns are preset, so you can use it multiple ways.
Password Log.
The password log is pretty self explanatory, it's where you keep all those passwords that you have to create for different bill companies, your kids' stuff, store accounts etc.
If you keep them all in one place it makes it so much easier to keep track of your passwords when you need them.
Some of my favorite places to find financial worksheets are on Etsy and Pinterest.
I hope my monthly bill checklist can help you be financially organized too!
I'll talk to ya soon,